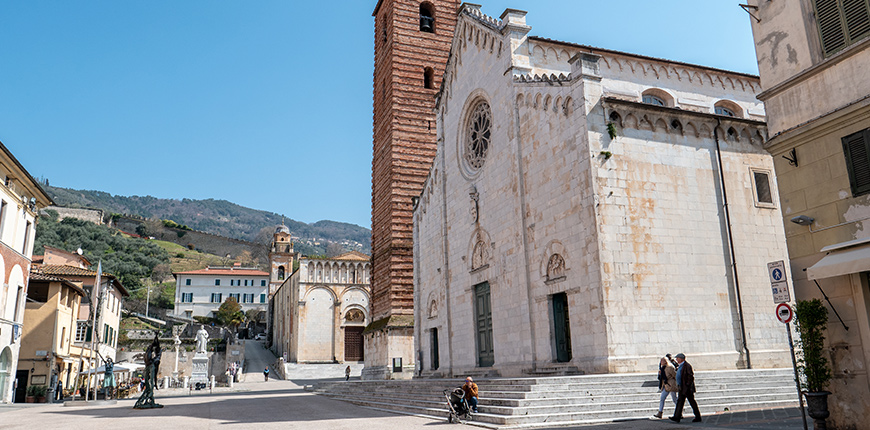 Detailed Itinerary
Pickup at Livorno Port
Lucca guided tour
Wine tasting and lunch at Alpemare Beach Club in Forte dei Marmi
Pietrasanta
Drop off at Livorno Port


TRANSFERS

----

Transfer services to and from pick up and drop off location Mercedes Benz vehicle with AC
LANGUAGE

--

English Speaking Driver
DAY TOURS (9.00-17.00)

Any extra requests must be notified and it will cost 50 Euro per hour


BEVERAGES

In the meals price are included ½ lt of wine, water or soft drinks 33cl per person, anything else will be paid extra directly to the restaurant


MEALS

The menu will be composed by 4 courses or some tasting meals, all the requests will be paid extra directly to the restaurant


Tour Services
WINE TASTING

Private wine tastings of fine reds
and whites of the regions visited
LICENSE GUIDES

Guided tour in Lucca
WINE TASTINGS

--

Private wine tastings of fine reds
and whites of the regions visited

MEALS

------------

The menu will be composed
of 4 courses or some tasting
meals, all other requests will
be paid extra directly to the
restaurant
BEVERAGES

-------

The meal price includes
of wine, 33 cl of water or
soft drinks per person,
anything else will be
to the restaurant
DAY TOURS (9.00-17.00)

----------------

Any extra requests must be notified and it will cost 50 Euro per hour

TRANSFERS

--

Transfer services to and from pick up and drop off locations on all days Mercedes Benz vehicle
LANGUAGE

----

English Speaking Driver
Tour Services
LICENSE GUIDES

-------

Guided tour in Lucca

INSURANCE

Tour operator insurance

INSURANCE

--

Tour operator insurance

Detailed Itinerary
Our Bocelli Seaside Experience Shore Excursion begins as you are chauffeured to the ancient town of Lucca with a guided tour exploring the birthplace of famous composer Giacomo Puccini. Engage in historic folklore and local culture before being chauffeured through the gorgeous hills of Tuscany to Pietrasanta, a stunning small town hidden between the sea and the alps where you can visit the hidden gems before heading to the newest Alpemare Beach Club, owned by world renowned Maestro Andrea Bocelli. Take your seat between the sea and the Apuan alps and indulge in a fine wine tasting of delicious Bocelli wines as you admire the views. Enjoy an exquisite lunch served seaside with incredible cuisine specially prepared by Best Chef.The wine accompanying your meal are straight from the Bocelli family vineyards. With the view of the alps at your back, and your gaze towards the never-ending sea, the complete relaxation will be perfect. Pisa is where your afternoon will take you with a nice stroll in the little town and admiring the Leaning Tower. After a charming day you will be chauffeured back to your cruise ship.
Duration: 9 hours








We had already booked our tickets to the concert and our accommodation, but "Great Italy tours" were amazing at sorting out all the other things we wanted to do, bespoke as we have been to Italy several times.
My wife and I celebrated our 15 year wedding anniversary this past July 2016 and I can truly say that Maurizio and the entire staff at Great Italy tours were fantastic.
maglett
customer
What Clients Say


431tony
customer