Detailed Itinerary
Pickup at accommodation in Tuscany
Pietrasanta
Alpemare Beach Club Wine Tasting and Lunch
Mini Concert at Villa Bertelli in Forte dei Marmi
Drop off at accommodation in Tuscany


TRANSFERS

----

Mercedes Benz vehicle with AC
Transfer services to and from
pick up and drop off location
LANGUAGE

--

English Speaking Driver
DAY TOUR (8 hours)

Any extra requests must be notified and it will cost 50 Euro per hour


BEVERAGES

The meal price includes ½ lt of
wine, 33 cl of water or soft drinks
per person, anything else will be
paid extra directly to the restaurant




Tour Services

BEVERAGES

------

The meal price includes
of wine, 33 cl of water or
soft drinks per person,
anything else will be paid extra directly to the restaurant
DAY TOUR (8 hours)

------------

Any extra requests must be notified, and it will cost 50 Euro per hour
TRANSFERS

--

Transfer services to and from pick up and drop off locations on all days Mercedes Benz vehicle
LANGUAGE

----

English Speaking Driver
Tour Services

WINE TASTING

Alpemare Beach Club
WINE TASTING

----

Alpemare Beach Club
CONCERT

Entrance and Seat at Mini Concert
at Villa Bertelli in Forte dei Marmi
CONCERT

-----

Entrance and Seat at Mini Concert at Villa Bertelli in Forte dei Marmi
MEALS

The menu will be composed of 4
courses or some tasting meals, all
other requests will be paid extra
directly to the restaurant
MEALS

------------

The menu will be composed
of 4 courses or some tasting
meals, all other requests will
be paid extra directly to the
restaurant
INSURANCE

Tour operator insurance

INSURANCE

--

Tour operator insurance

Description
Experience the beauty of the Tuscan seaside as your Private English Speaking Driver chauffeurs you to the beautiful town of Pietrasanta. Stroll around the art town discovering the history and culture of the people. At Alpemare, beach club by Andrea Bocelli in Forte dei Marmi, indulge in a private Bocelli Wine Tasting and incredible Tuscan seafood lunch while admiring the views of the sea and the majestic Apuan Alps creating the perfect backdrop. The afternoon will be filled with glorious sounds of music at Villa Bertelli as you enjoy a mini concert in the stunning villa with performances by artists that work closely with Maestro Bocelli, and the professional pianist of Maestro Bocelli. After a glorious day, your Private English Speaking Driver will chauffeur you back to your accommodation. Bocelli Sea and Sound will be a harmonious mix of art, cuisine, and music.
Duration: 8 hours








After many emails between Chiara and myself, my friend and I decided on the Three Day Tour. It was a fun packed Three days! In addition to meeting their wonderful staff and our driver, Michele...
There aren't adequate words to describe our trip to the Bocelli Farmhouse, Cucina, Wine Tasting, Vineyards, Museum, Teatro del Silenzio and Gift Shop.
Yvonne W
customer
What Clients Say

Joey P
customer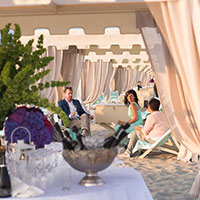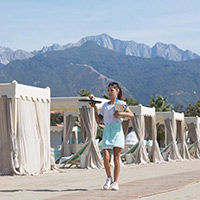 SHARE ON
FACEBOOK
INSTRAGRAM